I thought I would link up with Rebecca at
Simple as That.
Oh, I LOVE her blog!
Her photography is just stunning and so dreamy.
Jack loves this little bike.
His brothers and Lily push him around the yard for hours.
They usually end up tying it to another bike or the wagon and getting towed.
With three boys, I am sure you can imagine the concoctions they come up with.
Georgia thought she would take a ride today:).
To see other wonderful photographs click on the link below.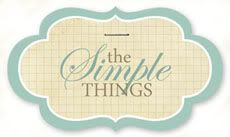 Have a lovely Sunday!
~Julia